The repurposing movement has inspired scores of people around the world to reconsider what they take to the landfill. Repurposing or
upcycling
has given many cast-off items a second life. I began to research upcycling in earnest when I realized that while the Daily Green crib was no longer used for sleeping babies, there may be another life for it. I wished I had been so inspired when I was able to buy a beautiful, but unable-to-be-fixed antique piano. I was so thrilled to discover the piano for literally a song at a thrift store, I never considered the cost of rehab. The "almost free" beautiful piano would have required $10K in custom repairs to be functional again. I opted to re-donate my find instead of repurpose it. I wish I had done a little more research.
In fact, people are turning beautiful pieces of days gone by into useful and interesting furniture around their house. We enjoy seeing patio sets created from empty steel drums, shutters, or baby cribs.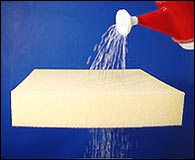 Successful upcycling projects do not happen without the appropriate materials. Once inspired by a castoff, it's important to find the right supplies for rehab. In the case of outdoor furniture,
Dryfast foam
is a fantastic product that can be custom cut to any project and is designed for outdoor use when moisture and precipitation is common. The foam has large, open cells to offer airflow not present in other foams which allows it to dry quickly, even after complete saturation.
Your imagination and a desire to maintain a product's usefulness and keep it from landfills are your only limitations when it comes to repurposing unique objects.
Have you ever upcycled or repurposed something? What did you use and what did it become?
Today's post has been brought to you by a sponsor.